EFFECTIVE DIGITAL MARKETING
Absolutely Dominate
Your Market!
Book a friendly, no hassle, marketing consultation
3 Key Innovative Features
– Innovation has no bounds –
"Our spirit of excellence and innovation has propelled us to produce what we believe to be the most personable, advanced and convenient digital marketing solution available.
By combining a dedicated digital marketing expert with professionally managed advertising campaigns and live, state-of-the-art, mobile app reporting, we formulated a consistently winning solution for our customers." – AbsolutelyDominate CEO
Accessible
Call us, email us, book an appointment. We provide our clients multiple ways to contact us, so customer support is always convenient.
Responsive
When you call, your call is answered. When you send an email or open a ticket, your message is responded to in a timely manner.
Dedicated Marketing Coach
One Point of Contact For All Your Marketing Needs!
As a client of AbsolutelyDominate, you will receive your very own marketing coach to help you strategize, plan and market effectively.
One point of contact makes for a more personal, dedicated and successful relationship.
Your Personal Marketing Expert

Dedicated, Responsive, Professional
Your marketing coach is your go-to point of contact for all of your marketing needs, questions and support. Your coach manages all aspects of your online advertising and is intimately familiar with every nuance and detail of your goals, strategy and vision.
Your Marketing Coach:
– Consults with you regularly
– Builds your marketing campaigns
– Manages your ads
– Provides dedicated support
AbsolutelyDominate provides you with dedicated, personalized service because that's ultimately what it takes to build a profitable, long-term relationship.
Dedicated Support
Have a question? Simply message, call or book an appointment with your coach. Professional, timely support is just a question away!
Digital Marketing Strategist
Your marketing coach helps determine the best online marketing strategy based on your industry, your needs and your budget.
Campaign Management
All of your ad campaigns across all platforms are managed by your marketing coach, bringing consistency and personal expertise to your advertising.
Optimization
Your marketing coach will give you crucial insight and recommendations. We're going to suggest and implement brilliant tweaks to maximize your results.
On-going Consulting
Consistent communication is key. Your coach will reach out and schedule strategizing sessions with you on an on-going basis!
Promotion Planning
Your marketing coach will help you plan promotions that grab attention and stir action. Lean on our experience and plan effective promotions!
Professionally Managed Campaigns
Built Intelligently, Optimized for Success
We build your campaigns smart from the ground up. Having managed millions of dollars in ad spend, we understand what strategies work and which practices bring the most success.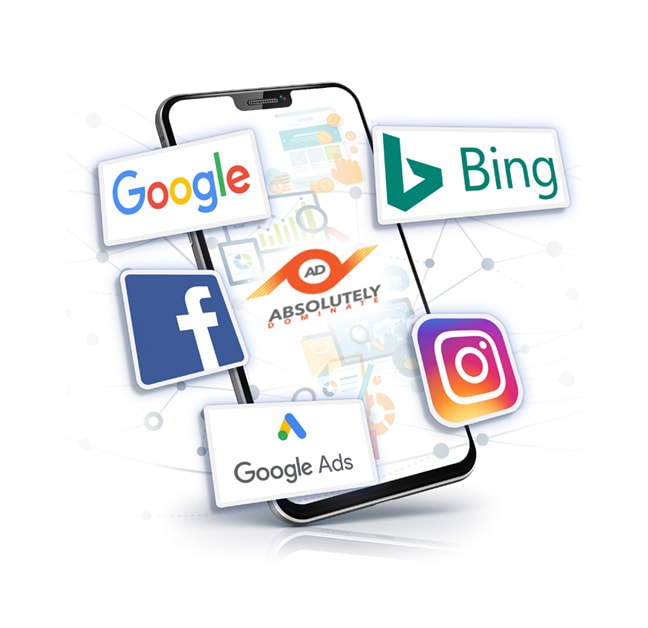 Campaign Management
Your marketing coach is constantly monitoring, tweaking and optimizing your campaigns. Your coach is also working and consulting with you to make sure your campaigns are profitable and bringing the results you expect.
We run campaigns on the following platforms:
– Facebook
– Instagram
– Twitter
– Google
– Bing
– Criteo
More….
Live Reporting App / Dashboard
No more waiting on reports… Get performance data in real time!
Our app/dashboard interfaces with platforms such as Google, Facebook, Instagram and more to bring you campaign data in real time.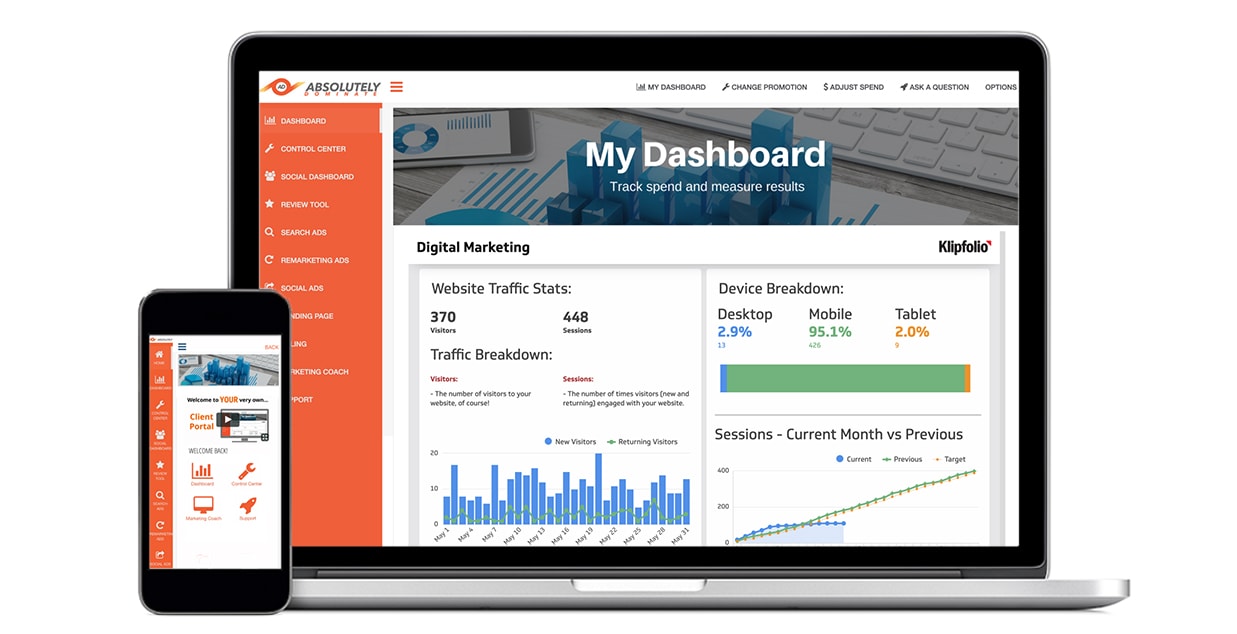 Live Reporting
Forget monthly or even weekly reporting! We give you our special app where you can track performance data in real time! Just open the app and there it is; all of the data for any date range you want to see.
View Custom Date Ranges
All of your reporting is live and easily accessible through the AbsolutelyDominate app. This includes all of your previous performance data as well. Just select the date range you want to see and BAM!
Insightful Spend Breakdowns
We break your spend down by age and gender so you can see exactly who is clicking on your ads. This helps us determine where your advertising dollars are best spent and helps us make smart optimizations as to where we allocate your ad spend.
Easy to Understand
We've worked very hard to make our reporting intuitive. Every metric is defined so you understand exactly what you are looking at. Our reporting dashboard also includes many helpful visualizations to help you digest your metrics.